Carissa Martos just returned from her trip with the Signing Time Foundation to Ghana in January of 2012. In partnership with Signs of Hope International, the small team visited some of the Deaf Schools throughout the country, worked with their students and teachers in American Sign Language, as well as experience Ghanian Sign Language first hand.
To read her account of the trip, please head over to the Ghana Blog:

To read about Signs Of Hope, International's (SOHI) and their work in Ghana, please read on. You will see why the need to go (and continue funding their work) was (and is) so great.

Life as a Deaf child in Ghana is challenging, particularly without an education. Signs of Hope International "dedicated to the enrichment of life for the Deaf community in Ghana." They help to provide "education and other programs to benefit the Deaf community," and give these children a chance at a better life.
The Signing Time Foundation has visited Ghana with Signs of Hope International before, in 2008. Information about that trip can be found by reading the press-release below by clicking on the quotation below: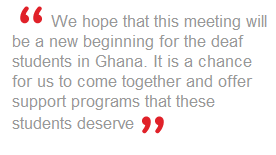 More information on the Signing Time trip can also be found by clicking on the photo below, where you can read Rachel's journal about the trip and see some wonderful pictures.